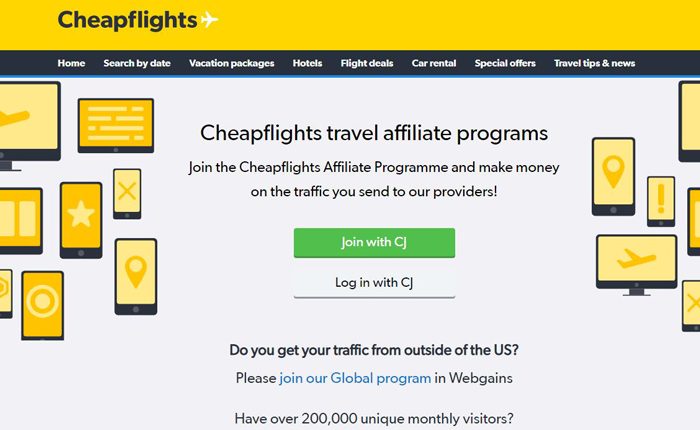 Cheapflights Affiliate Program-Booking-Travel
Cheapflights Affiliate Program-Booking-Travel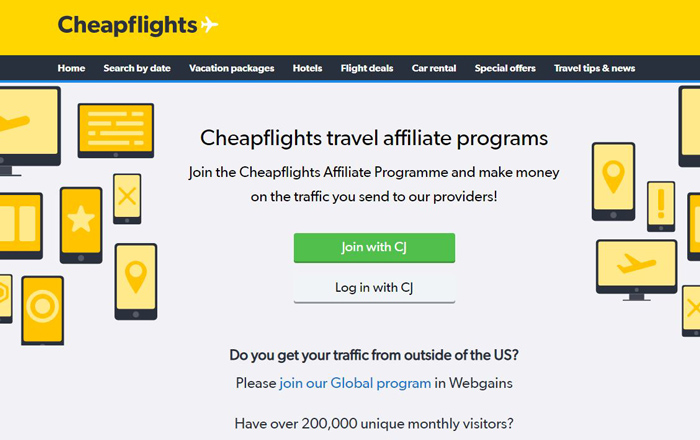 Cheapflights travel affiliate programs
Join the Cheapflights Affiliate Programme and make money on the traffic you send to our providers!
Do you get your traffic from outside of the US?
Please join our Global program in Webgains
Have over 200,000 unique monthly visitors?
Why should you join ?
– Earn up to $ 0.45 for each user's click out
– Travel is the largest e-commerce retail category – compliment your website by offering flight search functionality
– Simple integration
– Various different creative types and sizes, ranging from banners to search boxes & booking engine widgets
Payment Structure
Our affiliates are paid a fixed fee when a user clicks through to one of our partner deals on the Cheapfligthts.com website. We currently pay our publishers for flight, hotel and car click-outs only.Cheapflights offers a commission of :
1. $ 0.45 per click-out for desktop and tablet
2. $ 0.25 per click-out for mobile
Cheapflights Affiliate Program-Booking-Travel
Ways to make money with our travel affiliate tools.
Travel widgets
Add a white label or Cheapflights widget to your site and earn money.
Our travel widget allows your visitors to conduct a flight search on your site and display results on our page. This is our most popular travel affiliate tool, generating the highest revenue per visit.
Sizes available: 300×250, 728×90, 400×400, 120×600, 275×470, 675×370
Banners
This form of online advertising entails embedding a static or animated image into a web page or app.
Link through to the Cheapflights website and earn money every time you bring traffic to us.
Text links
Text links drive traffic from your content to a specific landing page. We offer a huge selection of links that will work with your content and your audience. If more destinations or route options are needed do not hesitate to contact us.
Cheapflights Affiliate Program-Booking-Travel
Most affiliates link their content to us. This technique converts very well as the user is already interested in the subject and is most likely to click on the link.
For more information about any of our travel affiliate solutions
Sign up to our program (using this form)
Add Cheapflights links to your website
Earn money each time a users clicks out to one of our partner websites
Review Just To Make Money.